"The government has issued its roadmap for lockdown to end,we are waiting till the end of March to see if private lessons can be started in April and classes to follow in May. The social dances may then restart after June. The classes may be restarted in smaller numbers in line with recommended maximum numbers,we will then review the situation based on the appropriate advice, many thanks for your support and keep safe."
Tuesday and Wednesday classes are keeping in touch via WhatsApp and also using zoom for a friendly quiz to keep in touch with people, let me know if you want to join any of these,
In the meantime get in touch if you are interested in a class when we restart.
Look forward to seeing you on the dance floor ,maybe sooner!
This is the website of Paul & Jo Sharman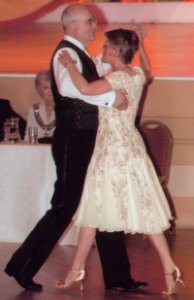 Let us teach you to dance, we make it fun and easy
so you will get gentle exercise and start to feel fitter.
Are you looking for:
A Beginners Ballroom class?
Individual or group tuition?
Do you want to improve your Ballroom dancing?
That important first dance?
Check out our News Page for details of:
** Beginners classes **
start a new class, join now!
Saturday Social Dances at Elmesthorpe cancelled until we can restart
Join a Beginners Ballroom Dance Class
Class News
Tuesday Class
Classes cancelled until we can restart
Wednesday Class
Classes cancelled until we can restart,
Don't delay come and learn
Its not too late to join one of our classes, we will get you dancing!!
To get in touch either:
Email via the contact page
Telephone on: 01455 449857 or 07972062776
Catch us on Facebook under Paul Sharman or sharmandancing
Ballroom Dancing, Latin American, Easy Sequence Dancing, Beginners
Classes, Wedding First Dances,and One to One Lessons In Leicestershire