Some Background Information
about Sharman Dancing
Paul and Jo Sharman,thats us, started dancing in 1978 and qualified to teach Ballroom and Latin,with the IDTA (International Dance Teachers Association) in 1985. We had a break from dancing, while we raised a family, the feet started itching as our son grew up and he was out and about enjoying life.
We took the plunge and started in very a small way with one class but this soon grew to our three current classes, practise dances, social dances, first dances and private lessons.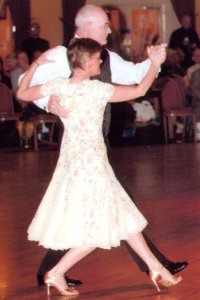 We run our Ballroom & Latin classes in a relaxed way , see the classes page for further details.
If you want private lessons for that important first dance or just want to learn how to dance, see the classes page for further details
The success of Strictly has meant that a wider range of people realise that dancing can be fun, we encourage you to have a laugh, learn at your own pace and have some fun!!! It's also a form of gentle exercise.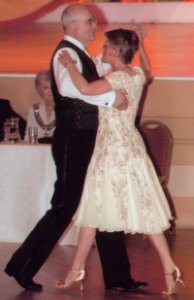 So we have now convinced you to come along, so what do you want to know?
What do you wear?
Clothes that you feel comfortable in, which are loose fitting and allow a degree of movement. There is no need to feel that you have to dress up to join a class, because if you feel uncomfortable in your clothes, how can you enjoy the dancing!
What shoes do you need?
Again shoes which you are comfortable in, try to not wear shoes with a grip, i.e. trainers,as you need to be able to move your feet easily.Ladies will benefit from a slight heel on their shoes, again this is preferable but not essential.
Do I need to have danced before?
We will soon get your two left feet moving in time to the music, before long you will have two dancing feet! The idea is to build your confidence up slowly, so you feel comfortable with the dancing experience.
Gift vouchers
We can offer a gift voucher service, redeemable against dance lessons or private lessons. These make the ideal birthday or christmas present, giving someone the chance to learn to dance. If you contact us , we can make the voucher for any amount you need.
Thats all the questions and answers, so get in touch and let us book you in to a class.